Go Big T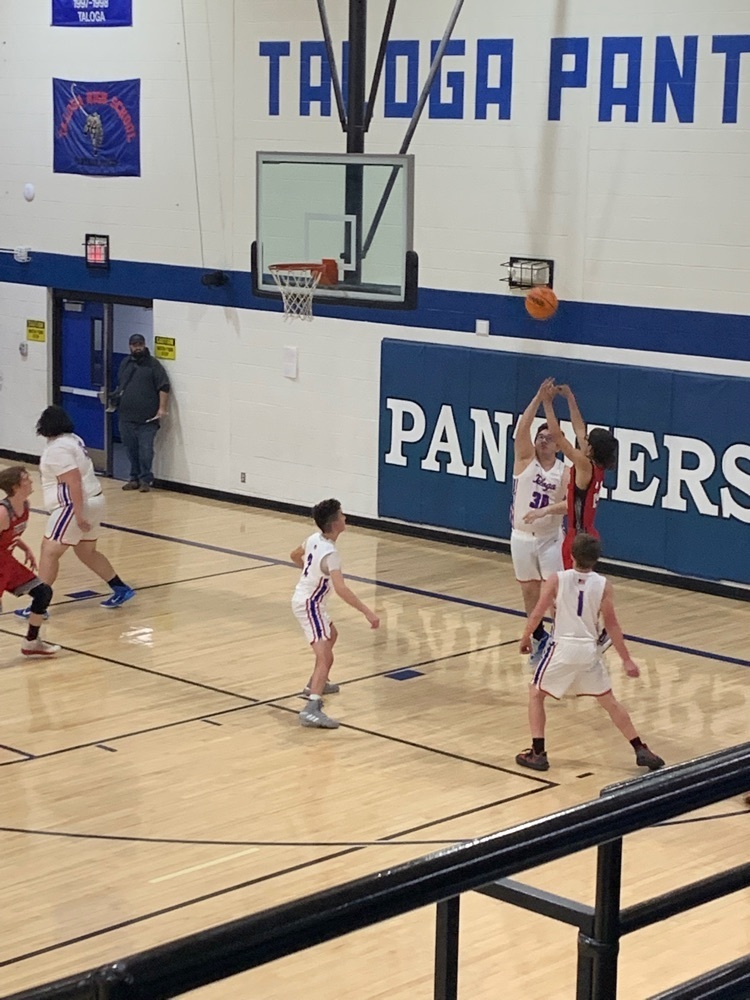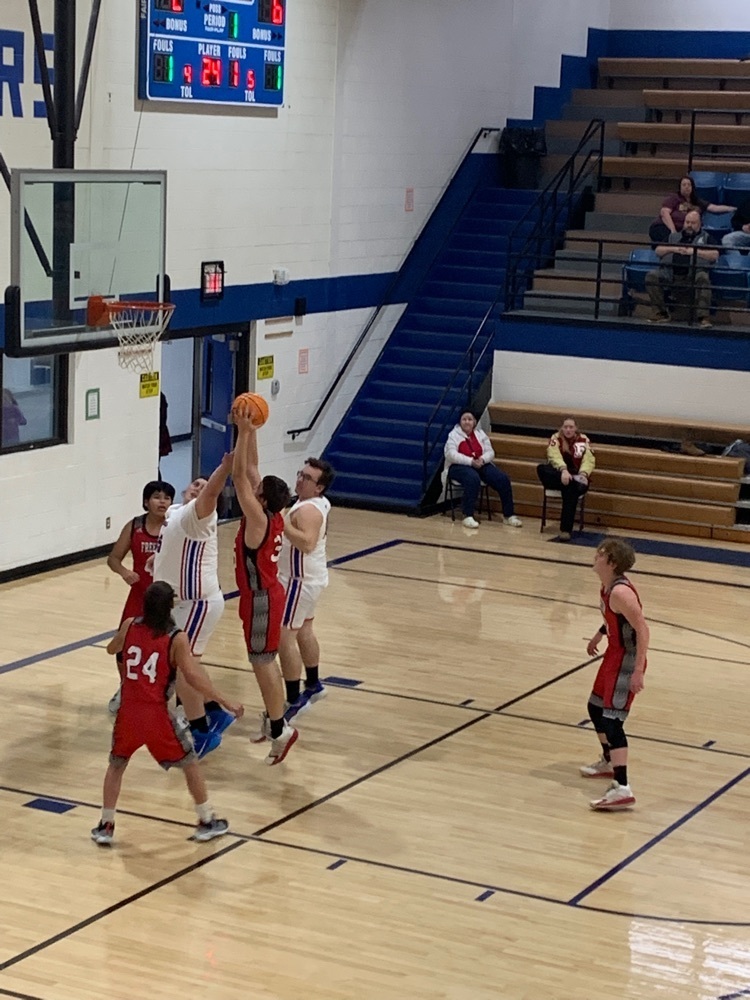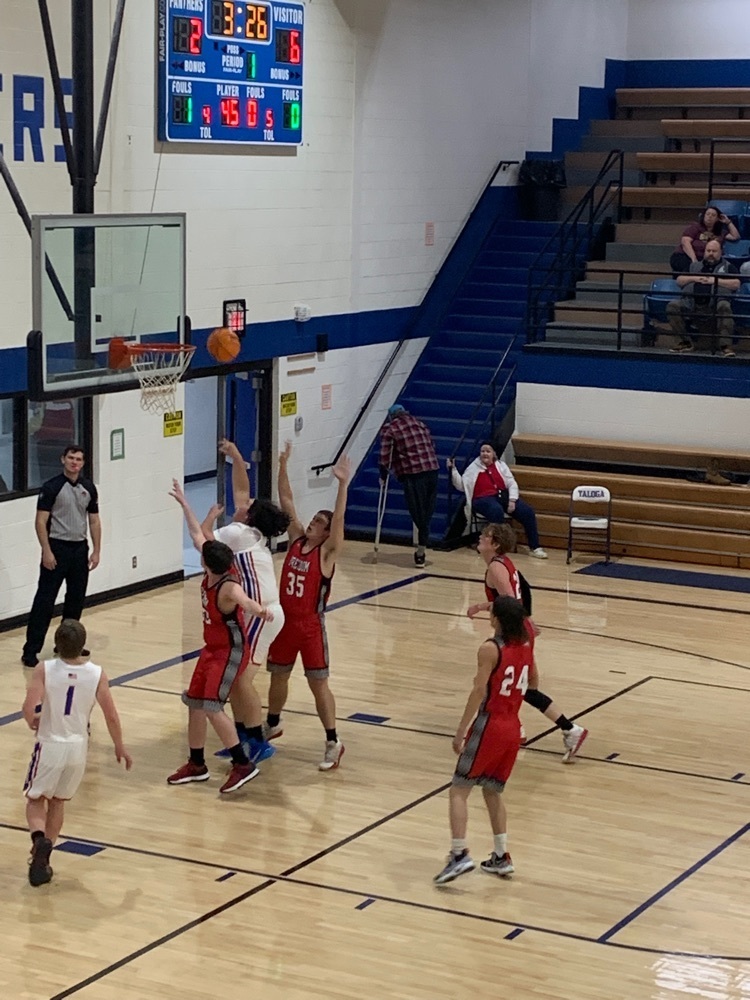 JV action at Taloga against Freedom/Aline-Cleo

Congratulations to Tabor Marlatt for making Class C 8 man All Star by class!

Cadet applications for the 48th Cadet Lawman Academy are now being accepted through the Cadet Lawman Facebook group Sign Up link at the top of the page! Link to sign up:
https://form.jotform.com/cadet_lawman/47th-cadet-lawman-registration-form
Please be sure when you are filling out the application that your first and last name, email address and phone number is entered correctly. Academy Dates - June 5 - June 11, 2022 (The sign up form still has last years dates however they are working on getting them updated) Applicants must be a Senior in High School during the school year 2022/2023 DEADLINE - All applications must be submitted via the Sign Up link by March 31, 2022 at 11:59 pm New this year: Connors State College is now offering 3 credit hours to those cadets meeting the eligibility requirements, moving forward. If you have any questions, please contact us at: 405-295-5001 or
cadetlawman@gmail.com

The NW Oklahoma Osteopathic Foundation has a scholarship/mentor program for high school seniors interested in becoming a physician. See Mrs. Hopper for an application.

Important for parents in grades 6, 8, 10 & 12!!! Your student should be bringing home this letter tomorrow, but in case it doesn't make it.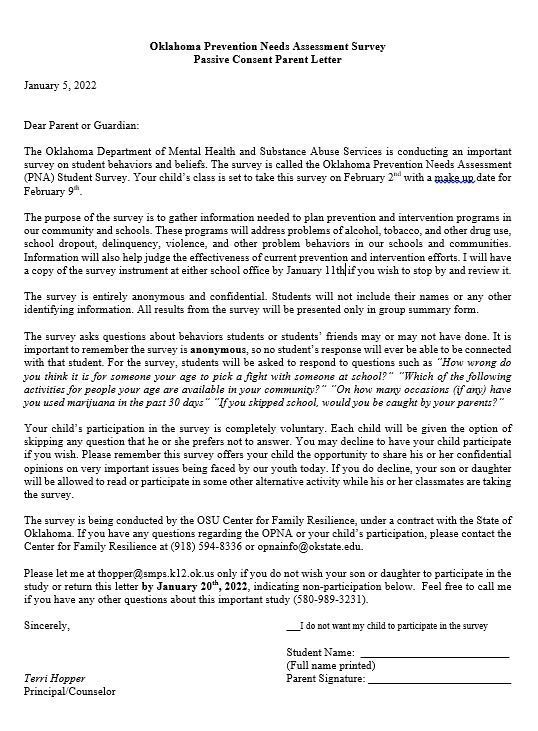 Seniors, check out this scholarship opportunity!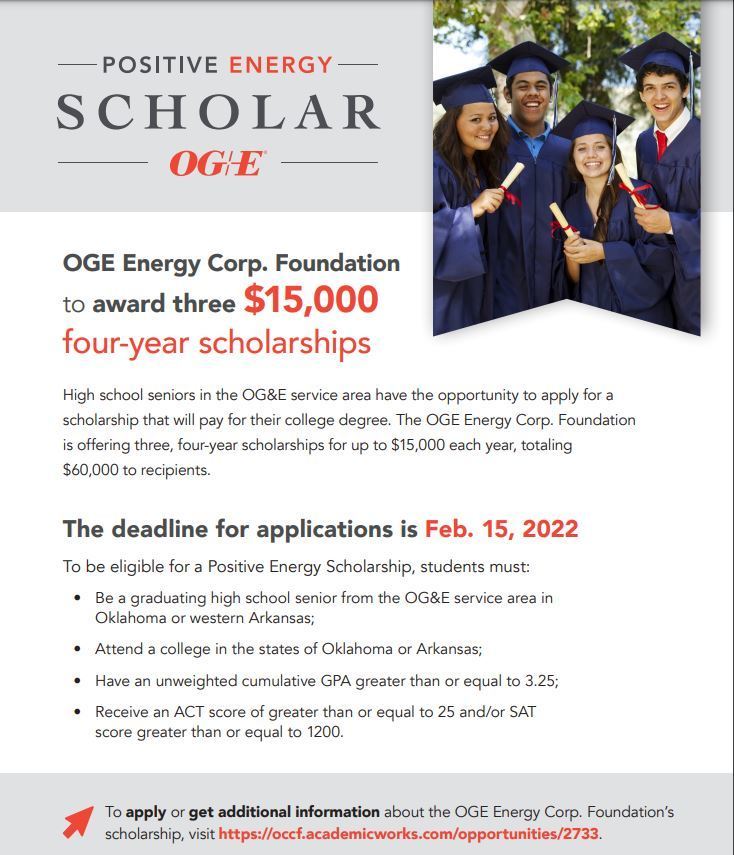 Join us Sunday for the S-M FFA Fish Fry and Trophy Auction!!!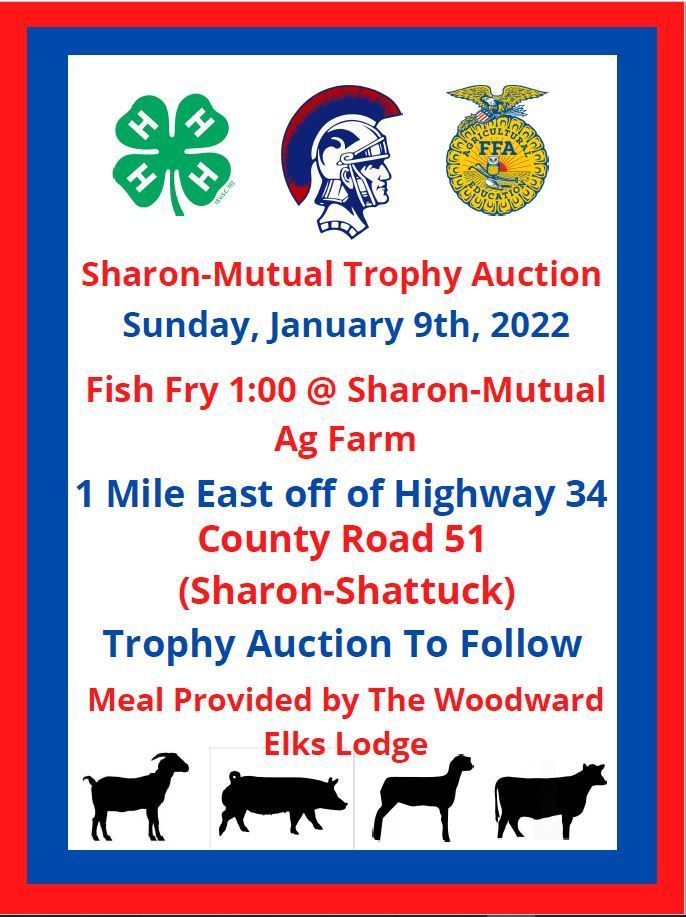 Sharon-Mutual trophy auction! This Sunday, fish fry starting at 1, auction to follow! Come out and support your local FFA and 4H members! #TrojanPrideNeverDies #ItsAGreatDayToBeATrojan ❤️🤍💙❤️🤍💙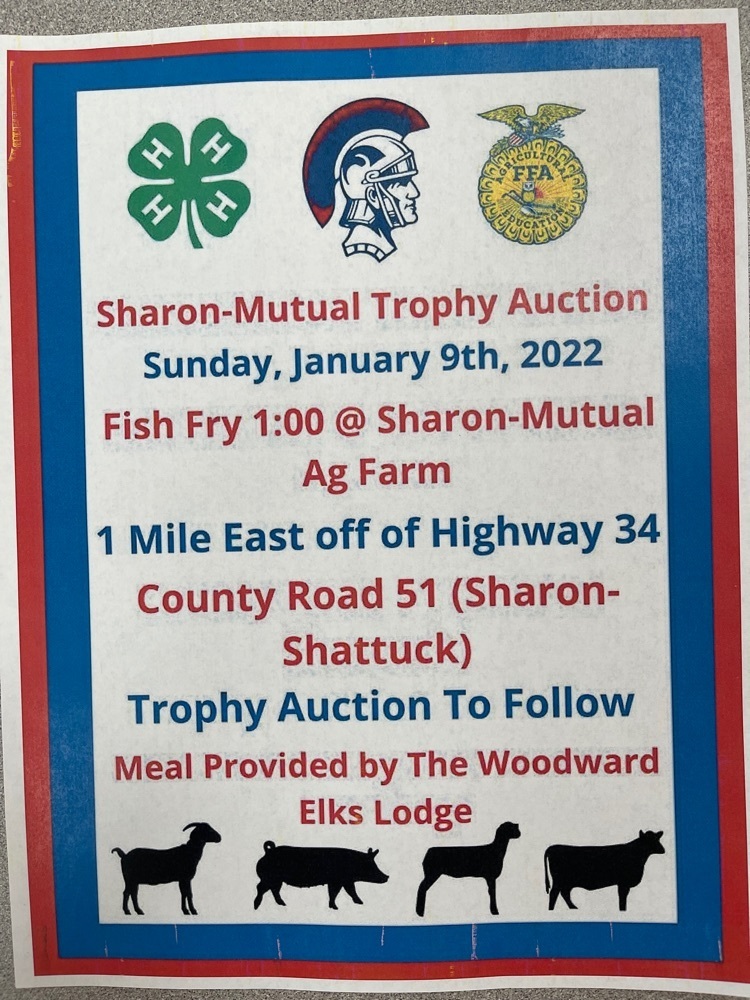 Auditions for the 2022 Oklahoma Summer Arts Institute at Quartz Mountain (OSAI) are just around the corner, and we hope you will encourage your students to apply! We want every eligible student in the state to feel encouraged to apply for this FULL SCHOLARSHIP opportunity to receive college-level training in the visual, literary or performing arts. Please share the information below and attached flyer with your students, fellow educators, and community members so that we can get the word out to high school students from all over Oklahoma! About the Program: As Oklahoma's Official School of the Arts, OSAI is the state's premier program for high school students wishing to further their skills in the literary, visual and performing arts. We are a nonprofit, partially funded by the State Department of Education. OSAI participants are accepted through a statewide audition process aimed at identifying Oklahoma's most talented young artists. During this intensive two-week residency program, students study with renowned artist-educators in one of several disciplines: acting, chorus, creative writing, dance, drawing & painting, film & video, orchestra or photography. All accepted students automatically receive a full scholarship, thereby ensuring that all students can attend, regardless of financial means. OSAI 2022 will be held June 11-26 at Quartz Mountain State Park in southwest Oklahoma. Auditions begin in January. How to Apply: Students must first complete an online application. Next, each discipline has very specific audition and work sample requirements and students will need to prepare their application materials according to these guidelines listed on our website: acting, chorus, creative writing, dance, drawing & painting, film & video, orchestra, and photography. Applicants in creative writing, drawing & painting, film & video, and photography are required to upload audition materials. Film & video and photography applicants are also required to schedule and participate in an informal Zoom interview to discuss their audition materials. Students will need to upload their audition material at least 24 hours before their Zoom interview. Applicants in acting, chorus, dance, and orchestra must schedule and participate in an in-person audition. Please view the Audition Schedule for all dates, Zoom interviews, and locations. Lastly, students, parents, and teachers can learn more about OSAI and take a look behind the scenes by following us on social media @oaiquartz!

NOC is hosting their Northern Encounter events will be held on the following dates: February 2nd at 9 am- 11 am Stillwater NOC Stillwater Building February 9th at 9 am- 11 am Tonkawa Renfro Center February 16th at 9 am- 11 am Enid Gantz Student Union They will be giving out more door prizes, T-shirts, and tuition waivers this semester. Students can pre-register for this event at
https://noc.secure.force.com/events/#/search
There are more scholarships than there are applicants for our PLC scholarship!!!!! PLC many of you are already familiar with, for those of you who are not. This scholarship awards $7,000 per semester for NOC related expenses. The student will need to have a 25 ACT score, a 3.6 GPA, 3 letters of recommendation, and an essay over leadership. The deadline for this scholarship is February 20th. If you have a student that you feel is a great candidate for this scholarship please have them apply for it as it is a wonderful opportunity for them!
https://north-ok.academicworks.com/?page=3
Lastly, in March they will be hosting their ACT Prep Workshop again. The dates for this are: March 2nd Tonkawa Renfro Center March 3rd Enid Gantz Student Union Both events will run from 9 am- 12:00 pm. It will cost $20 per student. This workshop will provide insightful information on how to approach the ACT in a calm, cool, and collected manner. Prior information provided to us on the prep was incorrect. Check it out at
https://noc.secure.force.com/events/#/search

This weeks athletic events are as follows: Monday, January 3rd: HS basketball @ Waynoka 6:30 Tuesday, January 4th: 5/6 and JH vs Taloga @ Mutual: 4:30 Thursday, January 6th Varsity basketball @ the Okeene Tournament: Boys @ 5:40, Girls @ 7:00. Friday and Saturday game times to be determined! Thursday, January 6th: JV Boys basketball @ Taloga Festival: 7:00 Friday, January 7th: JV Boys basketball @ Taloga Festival: 4:30 Saturday, January 8th: JV Boys basketball @ Taloga Festival: 5:30

There is no career tech tomorrow. Career tech students may either ride the morning bus to school or report to school by 10:50 AM.

Tuesday January 4th game at Mutual is a 5/6 and JH game vs Taloga. 5/6th staring at 4:30, JH to follow.

Mark your calendars!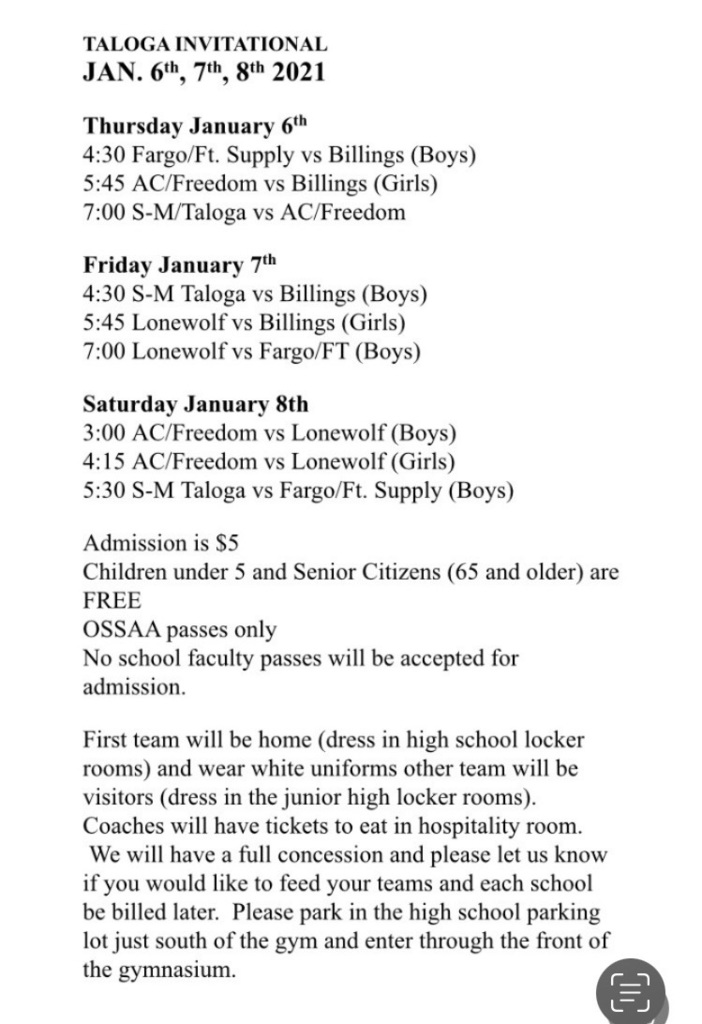 The Oklahoma State Department of Education is opening up a high-dosage tutoring program to all 8th grade students in public schools. The Oklahoma Math Tutoring Corps is an initiative funded with approximately $5 million in federal relief funding and will help close pandemic-related gaps in math learning and algebra readiness. "The disruptions in learning and trauma associated with the pandemic exacted a serious academic toll," said Joy Hofmeister, State Superintendent of Public Instruction. "In Oklahoma, as in many other states, educators are grappling with unfinished learning across all subjects, but the area most significantly impacted appears to be mathematics. The Math Tutoring Corps can reverse learning loss among the most severely impacted students." Students who enroll in the Oklahoma Math Tutoring Corps will receive virtual tutoring, three times a week from a qualified teacher or college student. All tutoring will be held outside of school hours. Tutoring services will begin on Jan. 11. For more information about the program and to enroll, go to sde.ok.gov/math-tutoring-corps. Enrollment closes on Wednesday, Dec. 22.

Attached are the Okeene Tournament brackets!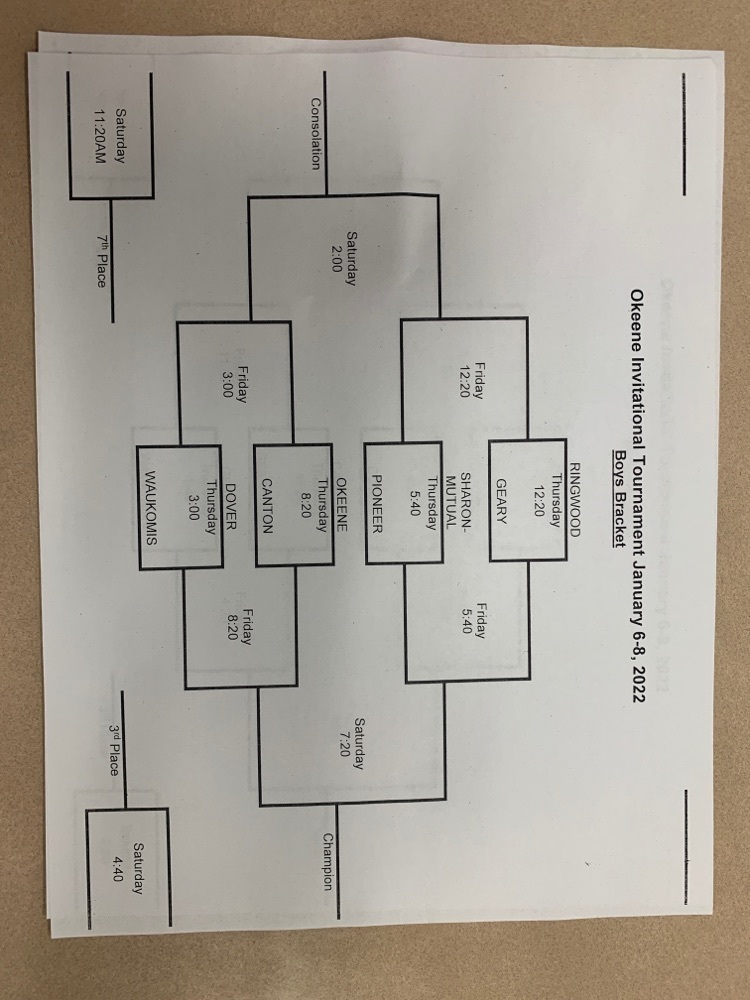 ACT Prep opportunity

Each year, the OERB awards up to $500,000 to students majoring in petroleum-related fields at the University of Oklahoma (OU), the University of Tulsa (TU), Oklahoma State University (OSU) and Oklahoma City University (OCU). This includes incoming freshmen. Each OERB Petroleum Scholar has the opportunity to be awarded up to $17,500 in scholarships throughout their college career. Freshman- $2,000 Sophomore- $3,000 Junior- $5,000 Senior- $7,500 Please join me in helping your high school seniors get the money they need to JUMP-START THEIR FUTURE by encouraging them to apply today at OERB.com/scholarships! The 2022-2023 application is open until March 1st, 2022 and takes less than 30 minutes to complete. Last year more than 50% of students that applied were awarded scholarships! OERB's scholarships are sponsored by the 2,500+ producers and thousands of royalty owners in Oklahoma. The industry directly employs 140,000 Oklahomans and has an average salary of $104,000. The next generation of oil and natural gas professionals will continue to help produce the resources that fuel our modern world while finding new ways to reduce the environmental footprint.

Need help with rent or utilities? Check this out!